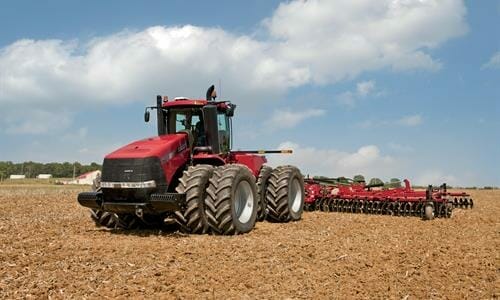 Steiger Series
The engines in the Steiger and Quadtrac range are designed to deliver maximum horsepower, with the engine power management delivering up to 62 more horsepower if needed, for navigating undulating fields, steep roads and meeting the higher PTO and hydraulic power demands of today's larger, more productive implements.
Putting power to the ground using the unique Quadtrac design track system will minimise soil damage from the impact of using heavy equipment and maximise crop yields.
The comfort of the operator's environment is a priority for the highest operator productivity. The industry leading Case IH Surveyor cab improves ride comfort in all conditions, with the option of both cab and seat suspension systems.
At the same time, operation is made easy with the Case IH Multicontroller armrest, maximising precision in vehicle and implement control.
Controls integrate advanced innovative technology such as APM – Automatic Productivity Management for optimising vehicle settings and AFS – Advanced Farming Systems providing the architecture for fully automated precision farming.
For more information on our complete range or to get a quote, contact us on macsif1@bigpond.net.au or call (02) 4932 6988