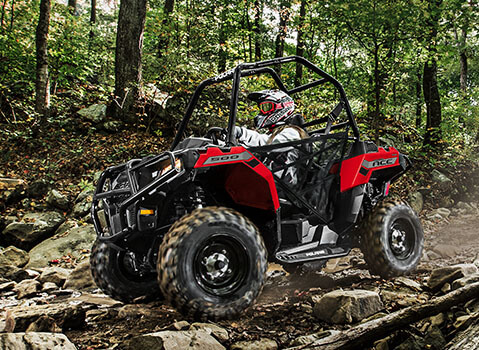 Polaris Ace 500 ATV
TAKE CONTROL OF YOUR ADVENTURE
Single Seat Freedom. Absolute Adventure. That's what ACE® is all about. The single seat puts you directly in the center of the trail.Take control of your own experience and take control of your adventure with the ACE® 500.
TRUE ON-DEMAND ALL WHEEL DRIVE
The Polaris True On-Demand AWD engages all four tires when the rear wheels slip and you need more forward traction. Reverts back to 2WD when you don't. Its simple and doesn't require pushing any extra buttons or pulling levers.
Polaris Ace 570 HD EPS
REAR CARGO BOX
Cargo capabilities of the new Polaris ACE™are as diverse as the machine itself thanks to a Lock & Ride equipped cargo box with built in rack-extenders and integrated tie-down rails to securely carry all of your gear, wherever the trail takes you.
ENGINE BRAKING SYSTEM & 4 WHEEL DESCENT CONTROL (4WDC)
For optimal control on descents, the ACE 570 HD features a new Polaris 4 Wheel Descent Control (4WDC), which was designed specifically for the hills and duty cycles of Australia
For more information on our complete range or to get a quote, contact us on macsif1@bigpond.net.au or call (02) 4932 6988